I know I've mentioned this several times in the past few weeks...but, I recently attended a workshop in NYC called
Blogshop
and now I'm
finally
talking about it!
I initially discovered these workshops and the idea of attending one when I read about it on a blog I read regularly, called
a Cup of Jo
. I was immediately intrigued. The workshop is a 2-day course in learning how to apply Photoshop techniques to your photos and blog posts...and it's specifically geared towards bloggers [
although anyone would learn a ton and have a blast attending one!
].
I learned a thing or two about
Photoshop
while in college studying Design. But, that was years ago [
more years than I'd care to think about
] and my major was not graphic design, so the bits of the program I did learn were purely rudimentary. Since starting a blog, I've re-taught myself several things. The problem is, the way I was previously "
figuring things out
" wasn't really the proper way to do things. Ultimately, I was just making things more complicated and difficult than they really needed to be...I was basically just winging it. There have also been times when I'll be browsing around the Internet, checking out other people's blogs and will wonder,
how'd they do that?
For all of these above reasons I jumped at the chance to take this course.
Blogshop
is run by two ridiculously talented ladies -
Bri
and
Angela
. Each class has about 20 students, so everyone gets individual assistance when needed. This particular session was assisted by
Bekka
...who was so sweet and helpful!! [
Thanks Bekka!
]
It was held in an amazing space, called
Divine Studio
in Manhattan. The studio was completely white...I
love
all white anything. The only splash of color was from these big, gorgeous and magical balloons, supplied by
Geronimo
[
they are on my wishlist
].
Each day we had delicious meals served by
Radish
, a prepared foods & catering shop based in Brooklyn, NY. Being that I have a food blog
you know
I need to talk about this. The food was amazing! I was so inspired by their menus and presentation.
Some of the dishes served were Kale Salad with Roasted Butternut Squash & Toasted Pumpkin Seeds, Apple, Walnut & Gorgonzola Flatbreads and Concord Grape Hand Pies.
Baguette Sandwiches filled with homemade Chicken Tenders, Fresh Horseradish Sauce & Arugula, or Roasted Market Carrots, Pesto & Gruyere...along with Roasted Cardamom Applesauce, which I was inspired
to make here
because it was
so good
!
One of the touches I found most special were their handmade sodas. The first day they served Cream Sodas...
homemade
. with
real cream
. and
soda
. If there's anything in this world my boys love it's cream soda and when I let the ladies of Radish know this, they let me bring home two bottles. My guys were
very
happy.
I can't tell you how to do the things I learned. For that you'll have to
sign up for an upcoming class
! But, I will tell you that I learned how to do all sorts of cool things...all in the hands of some fun, happy and patient teachers!
I learned how to add text to photos...both by adding handwritten scribbles and writing to my photos, or by customizing ready made fonts to suit my needs. I learned how to edit photos, using tools to magically remove spots and wrinkles, or help someone lose a few pounds [
now I know why everyone in magazines looks so perfect!
]. We learned how to make mood boards and collages...also how to make templates for collages, or blog posts...which makes things so much easier [and faster!]. Now when I want to make a collage I can just plug my photos into the template...such a time saver! I also have complete creative control over how my photographs look in the collage, which is something I didn't have when using an online collage making service.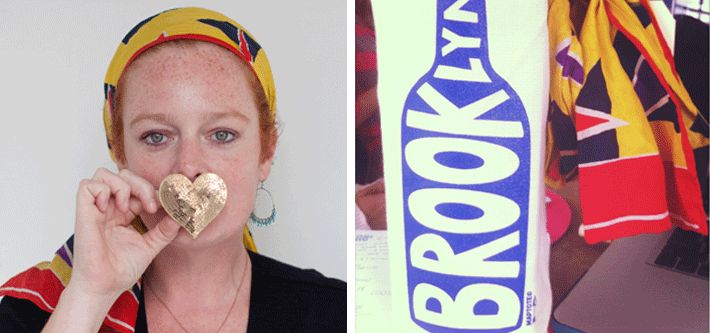 More cool things? I learned how to make an animated gif, which you can see above. We all got to make one, using photographs Angela took of us. In this series of pictures I'm modeling a few of the
great swag bag items
we received. Many of which could have come straight out of one of my "
Some Things I Just Love
" posts...and some have!
Such as this
sequined heart pin
from
Ban.do
or a
vintage silk scarf
. Some other great things were
B
rooklyn wine bags
from
Maptotes
, an issue of
Uppercase magazine
, exquisite letterpress stationery from
Good Egg
, custom notepads from
Pinhole Press
and temporary tattoos from
Tattly
.
One of the reasons it took me so long to get this post up was that I wanted to wait for the video of the event to be published! Every
Blogshop
workshop has a video and each one is special in it's own way. In fact, seeing the videos of past events was what really sold me on signing up for this! They looked like so much fun!
Blogshop NYC was filmed by Stebs of
Paper Fortress Films
. If you ask me, he did an amazing job! Check out the video. If you'd like to learn more about Photoshop, or how to make your pictures and blog posts really shine sounds like something you'd be interested in...sign up! You'll really be glad you did! [
A big thanks to Bri & Angela for such a great experience!
]